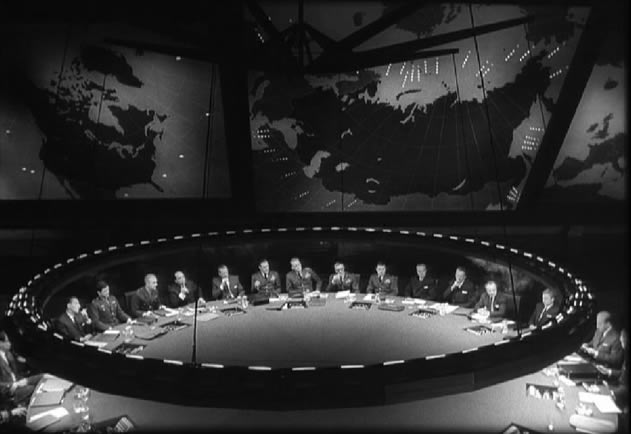 War Room from Dr. Strangelove
(src)
I need a strategy summit, by which I mean I need--as most people need--to build in time to reflect on how things are going on a macro level. To set out a path, a vision for how the future is going to run. This is literally my first free weekend in 2014, and I'm hoping to come out of it with more clarity.
(Letting you in on a secret: writing this blog is important because it gives me time to articulate plans for myself, and then I start implementing them before the post is done because otherwise I'd be a fake.)
To facilitate my reflections, I'd like to revisit a post I wrote early in the year, entitled
Senior Year Resolutions
. Here were the resolutions, and some notes on how I'm doing.
I will remain healthy.
Reasonably healthy, yes. I slacked off on exercise earlier this year but I'm back on the wagon. Also trying to get up at the same time each day, even if my first class doesn't start until 0930.
I will organize myself.
Confession: I completely dropped the ball on filling out the CSS Profile. In fact, the first couple weeks of the year I was disoriented and failed in a thousand different ways (okay, three, but they were big failures). A couple weeks back, however, I went on a reorganizing spree to help myself be more productive at the computer.
I'm not organizing my time very well, however, and I need to improve at that. Will be thinking of ways to increase my efficiency.
I will keep up my end of bargains.
At the risk of burnout, I have done so.
I will tutor people.
I haven't done paid tutoring this year since I need the hours for AP Chem, but yes, I've tutored juniors in precalc (because their teacher doesn't teach) and do my best to get my AP Phys friends to let me help them, too. I miss that class.
I will mentor band people.
I've dropped the ball on this one, though I am closer to my sophomore trombone-sister. Though I have encouraged many band freshmen to take on more responsibilities in my volunteer club, and that seems to have helped them.
I will feed my brain.
Another one where I've dropped the ball, though a couple of weekends ago I blitzed through a book of essays on The Brain, edited by Kenneth Partridge, and thoroughly enjoyed it. Will begin carving out reading time into my schedule from now on.
I will abide by the principles of the 20-mile march.
Haven't really been abiding...though I did read Crime and Punishment in manageable increments. Trying to be more strategic and conquer material through strategic studying rather than sheer force of hours. UM is finally starting to roll (knocks on wood though superstition is a bad habit to encourage in myself); 20-mile march principle starting to kick in.
I will go out in a blaze of glory.
Well, I didn't get principal euph, so that's out. I need to redefine what "blaze of glory" means to me. What is success to me at this point? I want to keep up my grades because so far I'm on the valedictorian track. I want to set the stage aflame at all concerts, because even if I'm not principal for the district I still need to set a high bar for myself and others at school. I have high hopes for our robotics team, and am very proud of how well the code has worked.
For seniors, a blaze of glory is often defined as getting into a prestigious school. I've gotten into all my safety schools thus far...March and April are when most of the other decisions roll in. MIT gets to break my heart first on Pi Day. In any case, there's nothing more I can do now to help or hurt my chances of admission, so I've just got to wait and see what happens.
But these metrics of success are all external. Don't get me wrong, my mood is as susceptible to outside forces as anyone else's. Recognition, validation, feel great. Rejection hurts. But as I leave high school, I want to find bases of success that are more permanent than a gold sticker.
I want to look back upon my high school legacy with pride.
I want to produce work that will not ashame me
, work upon which I am proud to stamp my name. I don't want to write essays that get good grades just to get good grades: I want to write essays that deserve good grades.
I want to be excellent
more than I want to be recognized for excellence, though of course I'd love to have both.
What do I want my last 3.5 months of high school to look like? I want to do quality work, as stated above, both for school and in my own creative endeavors. In addition, I want to set myself up for later success, and to do that I need to ramp up efforts to feed my mind through reading and seeking out new inputs, scrapping inaccurate images of myself as I search, constantly, for a better version.
-
You're Gonna Go Far Kid - The Offspring
Song recommended by Lieutenant Sarcasm. I need more aggressive danceable music.