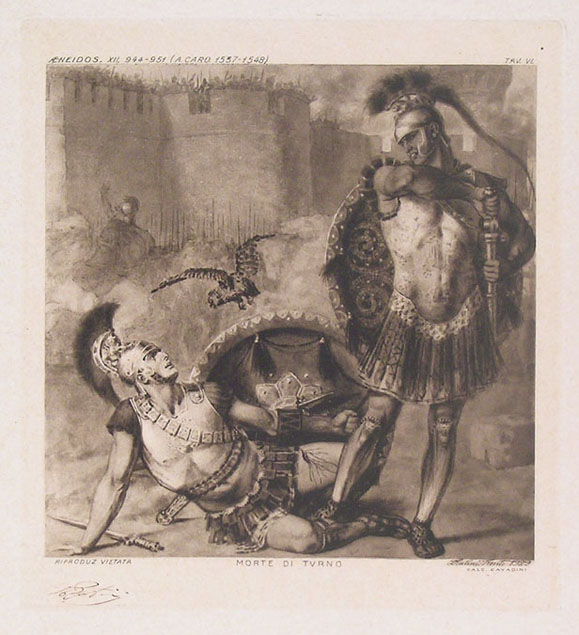 Death of Turnus - Luigi Ratini
(source)
You may say that I had no hope
That the earthshaker chose Aeneas
To be father of kings, founder of empires
That I was naïve to issue a challenge
Against one so loved by the immortal gods:
Very well. Then was I foolish, in defense
Of my honor and country, foolish
For the love of a girl and of war
To fight? Well, did I not kill
The Trojans when they brought me,
Like the fatal horse, within their walls?
For my pride, for my impatience
I was ruined: but dead I am yet a warrior -
I won and was destroyed by my own right arm.
Fates, leave me only this last, human dignity.
-
versione italiana:
L'Obiezione di Turno Alle Parche
Potreste dire che nessuna speranza mi veniva
Che il Signore del terremoto ha scelto Enea
Per essere padre dei re, fondatore dell'Impero
Che ero ingenuo lanciando una sfida
Ad uno cosi' amato dagli immortali dei:
Va bene. Ecco, era una follia, la difesa
Del mio onore e paese; una follia
Per l'amore di una ragazza e della guerra
Combattere? Eh, ma non ho ucciso
I troiani quando mi avevano portato,
Come il cavallo fatale, dentro le pareti?
Per l'orgoglio, per mancanza di pazienza
Sono rovinato: ma morto sono ancora guerriero -
Vincevo e sono stato distrutto grazie al mio braccio destro.
Parche, lasciatemi solo quest'ultima, umana dignita'.
--
I have an issue with cheering for the wrong side in epic poems.