A rather
magnificent studio wall
, and a
wonderfully sparse workspace
.
"
England Under the White Witch
", by Theodora Goss, a lovely short story, and her poem
The Fox Wife
. Furthermore:
be strong
.
I haven't read any of Nick Bantock's books, but after watching this video, I sure want to.
Labyrinths in Pagan Sweden
, a topic worthy of further investigation.
An article the smartest sophomore I know recommended to me:
Is God an Accident?
Examines reasons for human belief in divinity and supernatural influences in the world.
Speaking of religion: a website made by some Italian students about
le immagini del cosmo
. I shall read every word.
Enmi's art is lovely:
by trying so hard not to
.
Bibliophile Dreamland
: reminds me of Komaji the boiler man's place in Spirited Away.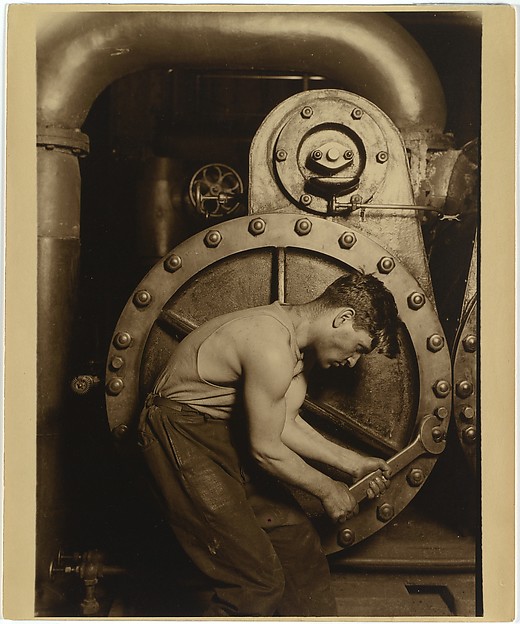 Steamfitter, Lewis Hein
(source)
A whole lot of posts from Enchanted Inkpot:
Mythical Beasts
, by R. L. LaFevers. Lots of links.
Music and Magic
, by William Alexander
Chinese Dragons, Mermaids, and Unicorns
, by Grace Lin. I know very little about Chinese myths, a situation I should rectify.
I tend to do this: find a writing site, blitz through it, and then stop checking. Probably better that way.
Old blog of R. L. LaFevers:
Collaging
: sounds like a lot of fun to get immersed in a character's head
Where I Write
: a rocking chair to write in sounds wonderful
Micro-Revision checklists
: I should keep track of this for when I do third draft of The Utopia Project
Now Make it Worse
: make the problem both more difficult and of higher emotional stakes
Some things to consider:

Make your characters suffer. Whoever your hero cannot live without, cannot possibly succeed without, remove them. (Maass suggests killing him, but I write for kids so I take a gentler approach.)

What is your character's greatest asset? Take it away.

What is sacred to your hero? Undermine it.

How much time does he have? Shorten it.

What matters most to your character? Threaten it.

You get the idea.
From the indomitable Terri Windling:
art stands on the shoulders of craft
. I love pieces that give me permission to produce terrible writing with the assurance that it's all part of the process (even though I know that I shouldn't *need* permission in the first place).
A collection of
animal/insect jewelry
.
A new museum in Italy that sounds amazing.
(source - as far back as I could trace it in the jungles of Tumblr)
Rereading
sea & salt & submersion
, a lovely blog post by Erin Morgenstern (author of The Night Circus) about how she got a new perspective on her WIP.
Article from Outside magazine:
How Running Explains the World
.
How Graphology Fools People
.
Animals:
Affrica's Animals Were Just the Right Size
: good to consider for worldbuilding
Siphonophores
Google Products You've Never Heard Of
, including
Google Art Project
, which I resolutely shall not peruse properly until after AP tests. I really do need to keep this in mind, though, because the internet has a whole lot of potential as something to be mined for information.
For further perusal:
Anthrocivitas
.
Good weekend.